Hello and welcome to Four Oaks Primary School's
SEN Information Report for Parents.
Click here to access Birmingham's Local Offer.
The Inclusion Manager at our school is Mrs Barton. She works with children, teachers, parents and outside agencies. Mrs Brown and Mrs Goldspink are SEN Teaching Assistants at our school and work with children with additional need.
If you wish to contact a member of our inclusion team please email the school office enquiry@fouroaksprimary.bham.sch.uk in the first instance and a member of the team will contact you.

Click on the logo above to read all about our SEN Information Report.
Click on the logo below to read all about our accessibility plan.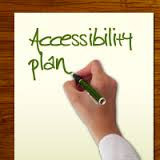 For an example ITP, please click here.
For the example template referenced in the Information Report, click here.