All Saints Parish Church
All Saints Parish Church
28 April 2023 (by admin)
News of a special messy church session!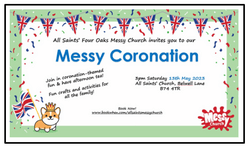 Messy Coronation
Our May messy church is 'Messy Coronation!' and it's set to be great fun.
If you haven't been to a Messy Church session before then do come along and give it a try and if you have then you'll know what fun it is! It's a lovely family event with messy crafts, a story, singing & prayer in church; and a chance to share some food together.