Community Defibrillator
Community Defibrillator
21 March 2023 (by admin)
This fantastic addition to our community is now up and running!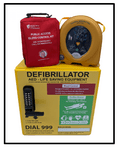 If you are ever in need of this potentially life-saving piece of equipment just go to the box, call 999, and quote the box location of 'Four Oaks Primary School, Edge Hill Road, B74 4PA' to the emergency services (this is written clearly on the box), and they will instantly give you a code to open the box.
Inside you will find a defibrillator with easy to follow instructions on it, and a bleed kit with medical supplies to use.