World Book Day 2023
World Book Day 2023
3 February 2023 (by admin)
We have made a slight change to arrangements for World Book Day this year.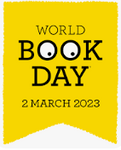 Here in school we are really looking forward to a day of celebrating the joy of reading on Thursday 2nd March, when we take part in World Book Day.
As we have already explained, this year we would like all children to create a card sandwich board to wear, decorated with the cover of one of their favourite books. We would still like this to happen, but we have tweaked the guidelines for the day slightly in that we will be happy for children to dress up in a book related theme as long as they still have their book sandwich board to wear over the top. Obviously if your child does not want to dress up they can wear their sandwich board over their normal clothes.
The idea of the sandwich board was chosen in trying to both lend support to families who are feeling the pinch financially at the moment and to think about those pupils who don't enjoy dressing up and being the centre of attention. Hopefully this small tweak to the day will also cater for the children who would have missed dressing up.
I would like to make it clear that we still want as many children as possible to create a book-related sandwich board to wear as we are having a school wide competition for this with a wonderful book prize up for grabs in every class!
I hope everyone will get involved to support us wholeheartedly.