Bonfire Night
Bonfire Night
21 September 2022 (by admin)
Four Oaks Saints are now taking bookings for this traditional event!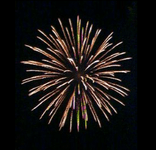 We would like to share news of our local bonfire celebrations this year.
As November 5th falls on a Saturday this year, Four Oaks Saints Cricket Club have decided to organise things differently and 'Early Bird' tickets are now available online until the end of September at a discount, when the price will revert to the normal price. As bonfire night falls on the Saturday they know they will be really busy, so they may have to restrict gate entry on the day!
Just follow the link to book your tickets!
Don't miss out!