PTA - 'RAGS2RICHES'
PTA - 'RAGS2RICHES'
19 July 2022 (by admin)
Read all about the latest PTA fundraising idea.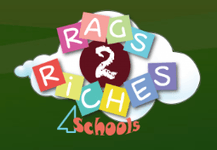 The PTA have one final fundraiser to let you know about before the end of the school year. This one won't cost you a penny!
We're sending home an empty bag for you to put in your unwanted clothing for reuse. Clothes are going to Ukraine.
'Rags2Riches' will pay our school
40p per kilo- so this could be a big fundraiser for us if we all take part.
Bring your bags containing your clothing donations to the
outdoor classroom
on
September 27th
please.
Please look at the attached letter & flyer to find out exactly what they do and don't collect. For example, NO UNIFORM OF ANY KIND! If you put unsuitable items in, they won't get weighed and won't count towards the total.
It is a little while away yet, but we didn't want to miss an opportunity if you're having a sort out over the holidays.