PTA - 'RAGS2RICHES'
PTA - 'RAGS2RICHES'
21 May 2023 (by admin)
Bring your bags on Monday.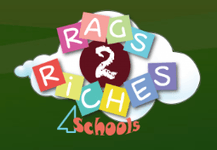 The PTA's 'Rags2Riches' bag drop is tomorrow - please bring your bags to the Junior outdoor classroom clearly labelled with 'FOPS'. Our bags will be picked up on Tuesday.
'Rags2Riches' will pay our school
40p per kilo- so this could be a big fundraiser for us if we all take part.